About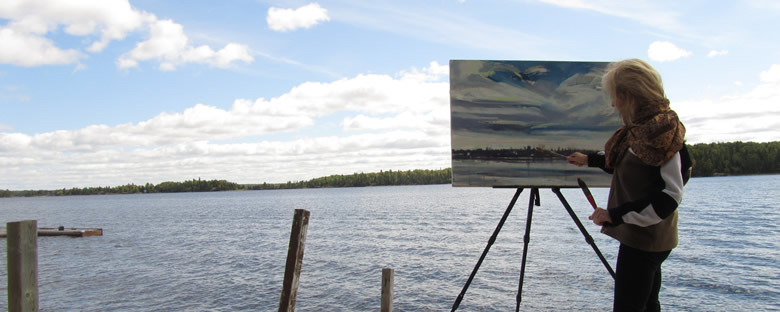 Spring 2020
Catharine Somerville was born in Toronto and lives in both Canada and the UK. Her work is a visual experience concerned with the observed world. She completed her degree in Fine Art at Georgian College, Barrie, ON and completed her post graduate diploma in 2009 at West Dean College and Sussex University.
Catharine has been awarded numerous awards for her painting. Her work, based on travels through Newfoundland and the Arctic was awarded the Gryphon Theatre Prize in Barrie Ontario. Since then, she has spent a six-week residency with the Edward James Foundation in Las Pozas, Mexico. As a result of this residency living and painting in isolation as the only person amongst these lush gardens, she won the coveted Chairman's Prize at West Dean College, West Sussex for her postgraduate work.
Somerville is a recognized artist and her work can be found internationally in public, private and corporate collections in Mexico, the U.S.A, Canada and England including the Edward James Foundation, West Sussex and Las Pozas, Xilitla, YMCA Irma Brydson Place, Toronto, Kanata Research Park Corp., Ottawa, the Thomson Reuters Headquarters, Toronto and the Donald Wilson Neuro Rehabilitation Centre Chichester, West Sussex. Catharine regularly donates a painting to the Katie's Lymphoedema fund auction in London, UK.
Artist Statement
"My work represents the earthly tremor of events around me and is a reflection, not necessarily political as in the Bolshevik model, but as an inescapable truth that might take on political implications. It is derived from my instincts and intuitions that strives to respect a higher intelligence of finding truth. The finished product of my work is more a by-product of the performative activity of painting. It is my intention to strive to create the reality of the canvas as an object rather than the illusion of the reality on the canvas".
Catharine is interested in tracing the history and physicality of the object and expressing the emotion felt. Her surfaces range from "Direct Painting" (Francis Bacon) to mixed media materials. It is not in her temperament to stick to a single thread/vein in her painting and she changes her language to meet the demands of new energy and concerns. She writes" I need something experienced, witnessed, a poem a book, a place or an event as an assumed truth to begin a work and complete a statement".
Recently, her work has been examining the cloud formations and changeable movement of the stormy skies behind her studio in West Sussex during a winter of turmoil 2020. She reflects," The strange shadows that block the light from the clouds seem to create a trip into your mind". Her references are J.W. Turner and John Constable and poets Siegfried Sassoon and William Blake.
Since this time spent at her Sussex studio, she has abruptly moved to Canada and is now in lockdown at Jordan Station, Ontario Canada. Her only visits are to the water's edge of Lake Ontario with vast vistas of water and sky.
From Turner to Monet and Tom Thomson to Emily Carr and Ivon Hitchens, landscape has served as a source of inspiration and exploration. This fascination with landscape; pictorially, lyrically and conceptually has proved to be a deep well of creative stimulus to draw from.
As a contemporary landscape painter Catharine considers nature as a way to emotionally connect to the viewer with the truth of human experience. Her painting takes up the notion of landscape as a metaphor allowing her to make an artistic sense of the world by making marks and exploring colour in a post-impressionist/expressionist and abstract way akin to musical notes. Catharine paints on canvas and board using oil, watercolour and mixed media. While she has a firm studio practice, she equally paints en plein air and recently has travelled to remote areas such as northwestern Ontario, rural Quebec, Newfoundland and Cornwall, UK.
Her paintings take on an ephemeral lightness between the layers of pigments casting and bouncing light to provide jewel like colours on the backdrop of a sky, sea, lake or woods. These works access the imaginings of both a wild and nurtured existence. As philosopher/artist, Dr. Ed Winters writes "Only through art can we see ourselves as belonging in a world in which these imaginary empathies tell 'truths' about our condition. Being called to paint is a form of witness. The observation of an artist like Catharine, calls upon a developed sensitivity. Being imaginary, it develops a view onto the world. This, I am sure, is what is historically meant by an 'artist's vision'".